Gene had been my husband and friend for thirty years. I am sad to say that he did not recover from his third heart surgery. I few months after losing him, I was invited by my daughter and son-in-law, Cindy and Scott, to visit his parents in Evansville, Indiana. It was a weekend trip, but I had looked so forward to spending time with my special new friends. Dave and Marilyn had been so supportive during the difficult months following our loss. It was so nice to get away for awhile. After an enjoyable three hour road trip, we arrived at our destination.
Their home was extremely lovely, a lot of glass with a beautiful woodland view. As I walked into the study, I was taken back by a very solemn painting on the wall. The background was as dark as night with very little paint on the canvas. It was the most emotionally stirring painting of Christ, on the cross, I had ever seen. I could feel my eyes filling with tears. How could a humble human ever capture the passion that this painting exemplified? The agony on his face was evident by a profile highlighted on a midnight black background with shades of rust and cream. Only a slight hint of color revealed the sharp, flesh piercing crown of thorns, which had slid forward on his sweat beaded brow. The tops of His outstretched arms and a few streaks of the wood grained cross filled the remaining space on the canvas.
The emotion that this experience evoked in me was indescribable! "Where did you get this painting," I asked my friend and hostess.
"My brother painted it right before he died. He had begun drinking and lived a very troubled life." I told her I had never seen anything like it. What a gift he had. It was truly inspired.
Without saying a word, she abruptly exited the room. I became slightly uncomfortable, thinking I might have upset her. She quickly re-entered the room with what appeared to be a poster in her right hand. As she handed it to me she said, "Here, I'd like for you to have this."
As I unrolled it, I discovered that it was a print of the painting I so deeply admired. I was overwhelmed! It's one thing to admire something in my friend's home but for her to just happen to have one for me was unbelievable. I became very emotional as I realized, it truly was a "God thing."
After a wonderful weekend and a very pleasant drive, we were once again at home just south of Indianapolis. She had placed the print between two pieces of cardboard to protect it on the trip home. I put in in my spare bedroom until I could decide where to display it.
I must admit, for the next few months, I did everything I could think of to keep myself busy. I stayed away from home as much as possible, to avoid facing the emptiness that surrounded me. Losing Gene left a tremendous void in my life. I simply forgot about the picture.
Weeks turned into months, and one Sunday morning I entered the small bedroom. I spied the flat cardboard package standing upright beside the chest of drawers. I quickly opened it and gazed at the image of Jesus on the cross. The emotion returned, with a considerable amount of guilt for not finding a place to display my wonderful gift.
All of a sudden, I knew what I was going to do with it. I would mat it in the two complementary colors highlighting His face and arms, the shades of cream and rust. I would put it in a dark frame, maybe black like the background. I would hang it over the, darkly stained, wood mantel in the family room. I would paint the wall behind the picture rust, and trim the room in the lighter color. I was getting excited! I had been trying to decide what to do with the family room for four years, and now, I had a plan. I would make my picture the focal point of the room, and try to accent it with only the things that would go along with the theme. Wow! I was so inspired. Boy, I had really gotten sidetracked. I had forgotten all about church. I had to get ready in a hurry. I picked up my sweet mama, as I did every Sunday morning. I was still excited as we took our seats, in the second pew from the back, of the Christian church, where we belonged. As we sang our familiar praise songs, took communion and passed the collection plate, my thoughts kept venturing back to the family room. I knew, as soon as I left church, I was going to check out the local discount stores for anything that would compliment that picture. I was focused.
We didn't have our regular pastor that Sunday because he was out of town. The guest preacher approached the pulpit, smiled at the congregation and said, "Good morning," to everyone. He proceeded to say, "Who's picture do you have on the wall, in your living room or family room, the room where you spend most of your time? Maybe you have your certificates or diplomas in the wall. Just what is important to you?" My jaw dropped. The entire sermon was about how you should have a picture of Jesus on the wall in the room where you spend your time. He said, He should be more important to you than anything or anybody.
I couldn't believe what I was hearing. I have never, before or since, heard a sermon about a picture of Jesus. Boy, if ever there was a "sign," or confirmation, it was that sermon on that Sunday morning. Needless to say, I could not get that room together fast enough. I bought a Mosaic plate, candles, a Roman numeral clock, black wrought iron candle holders, angels, stars, doves, crosses and anything else I thought would please Him. I even bought two potted palms, which, unfortunately, did not survive. I admit I got a bit carried away, but do you blame me?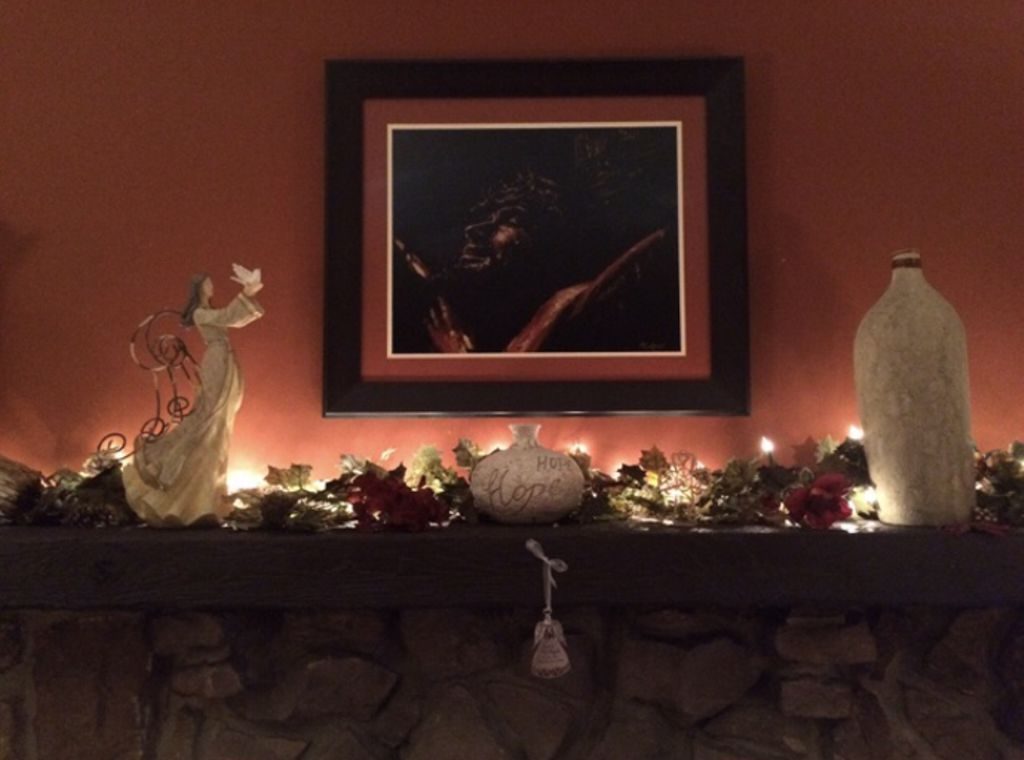 It went together beautifully and I must say, it's my favorite room in the house. It's where I spend most of my time, and where I'm writing you this story. Even now, He is watching over me. I always have a Christmas tree in here during the holidays, but this one doesn't have snowmen and Santas on it. It has only gold ornaments, with lots of stars and angels, and only those things that really mean Christmas. I hope He's pleased.
A Divine Image 2006