Have you ever been depressed? I mean really depressed and you couldn't seem to snap out of it. This happened to me in 1979, and I couldn't figure out what was wrong with me. I was very blessed in every way, but there was a big dark cloud hanging over me, over which I seemed to have no control. This particular year was about to play a very significant part in my life.
My middle son, Kevin, a high school Junior, had given up baseball, arranged his classes so that he could attend a local trade school, get a job, buy a car, and was growing up way too fast. Cindy, my rock and my best friend, was already a high school senior, so excited about her upcoming commencement and a summer of college preparation.
Then there was my little buddy, Brady Jay. We all called him BJ. I don't think he knew his name was Brady until he started to school. Brady came along when the other two were twelve and thirteen so I had a lot of help getting him off to a good start.
There was nothing ordinary about Brady. Cindy and Kevin were extremely intelligent, but they weren't reading in preschool like he was. We would miss him only to find him visiting with our adult neighbors. One time we learned that he had knocked on the door of the retired couple, who lived next door, to ask Madonna if her husband, Bob, could come out and play. Nick, another neighbor, called his wife Paige, who was a school teacher, out to the garage to witness, four year old Brady reading the paint cans to him.
This was the little boy who would be standing at the foot of my bed on Sunday morning, all dressed and ready for Sunday School, telling me it was time to get up. Was it because I actually gave this little guy to the Lord when he was just a wee baby? I didn't just baptize or dedicate him; I told the Lord to take him and use him for His glory, which might help me explain the rest of this story.
All of a sudden, I was going to send one to college and one to kindergarten and my independent Kevin was very anxious to make his mark in the world. My Goodness, where did the time go? Each one of these wonderful kids had reached a plateau in his or her life and I should have been thrilled with their accomplishments. Nevertheless, I was sitting in a puddle of despair, feeling insignificant and unneeded. I'm embarrassed to tell you this part. I told the Lord, "Lord, if only one person in this family would tell me that I was appreciated, I think I'd be all right." Nobody knew what I was going through.
It was just a few days after Cindy had come in the front door and placed her box of graduation announcements in the corner of the living room. Brady had pulled the cover down over the piano keys and was sitting on the bench writing away. I paid little attention to him until he asked, me how to spell "things."
"T-h-I-n-g-s," I replied, after which my curiosity got the best of me."Brady Jay, what are you doing? Those are your sister's 'Thank You' notes." Realizing that he was in trouble, he looked up at me with those sweet little innocent eyes and explained.
"I was just writing you a 'thank you' note, mommy." "A 'thank you' note? For what, Honey?"
"You know, for all the stuff you do for me, like helping me ride my bike and stuff. I didn't know he knew what a "thank you" note was. Least of all that there was a stack inside his sister's graduation announcements. "What made you write me a 'thank you' note?" I asked, knowing l there was no way he could have figured this all out on his own.
Once again, he looked up at me with those sweet little tearful eyes and said, "God."
"God told you to do that?" I inquired.
"Uh huh," was his response. Was it possible that this precious little guy was so tuned in that he knew just what to do, to help his mother out of the funk she was in?
I picked up the little neatly printed note. The letters varied in size just a bit as I read: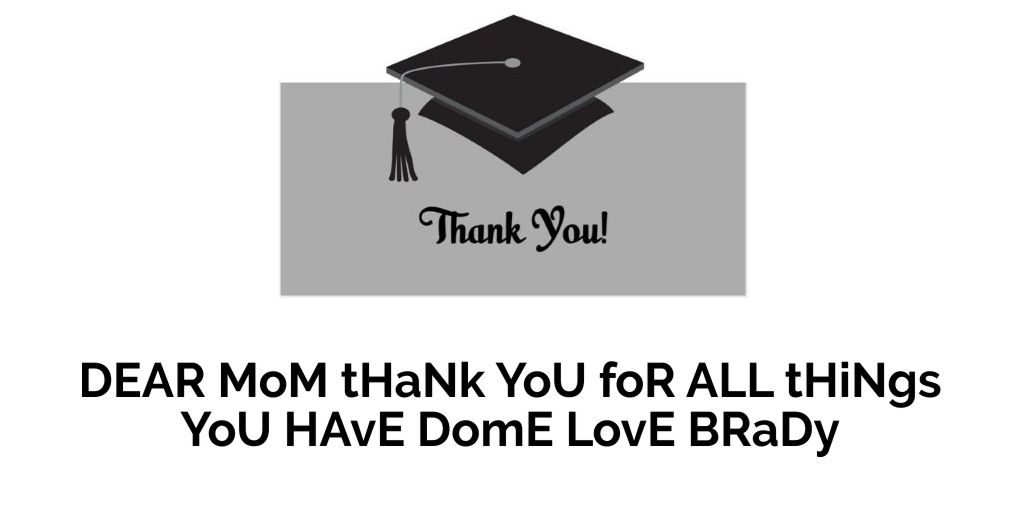 DEAR MoM tHaNk YoU foR ALL tHiNgs YoU HAvE DomE LovE BRaDy
I grabbed that baby and I held him tightly as I cried like a baby. I told God I'd never be depressed again as long as I lived and I haven't been. That was forty years ago.
A Thank You Note From God 1978