I was only ten years old when my dad moved my mother, brother and me from the city to a beautiful little farm in southern Indiana. Back in the fifties, sixty two acres was a lot to explore, especially for a couple of adventurous youngsters like my brother, Bill, and me. Life was so different back then. We left the keys in the car so we always knew where the were. The house, barn and tool shed were always left unlocked in case a neighbor needed to borrow something when you weren't home. Life was great! I could go on and on about life on the farm, but I want to get to the heart of my story.
It didn't take us long to learn that the entire community lived for and thrived on reliving the Friday night high school basketball games. Two games in one week was almost more excitement than this small town could handle. My family was soon consumed by our new lifestyle.
Basketball was king in those days. When I was twelve, my mother would put me on the fan bus early on a Saturday morning only to pick me up at 11:00 that night. My friend Suzanne and I would ride to Bloomington, Martinsville and even to Terre Haute to watch our high school heros earn the trophies they often brought home. We'd follow the big kids to the movies and to local restaurants between games. Because we attended a twelve grade school of around a hundred and twenty students, we were very involved with our high school athletics.
There were no sports for the girls, so the best we could do was yell or cheer for our team. That we did. Sometimes, my little friend, Suzanne, and I were the only fans in the cheer section at the away games, yelling our little hearts out.
Around that same time, I would slip into mother and dad's room after I was sent upstairs to bed, to watch IU playing basketball on the TV downstairs. I had to lie down on the floor and position myself just right to see the TV through the register. I would watch for hours and nobody knew. I think I've made my point, I grew up loving basketball but never had an opportunity to play. Being a junior high and high school cheerleader was as close as I came.
I was married right out of high school. I wouldn't consider college even though my mother begged me. I was "in love." Yes, he had been a ball player. We brought two little lives into this world before my twentieth birthday. Cindy and Kevin were just thirteen months apart but we managed just fine. Cindy became daddy's girl while I took care of the baby.
It's so easy for me to get sidetracked but I must get back to my story. Kevin, to our delight, played several sports with his dad often coaching him. Bantum football, little league baseball and junior high basketball. Baseball was his sport of choice and the one at which he excelled. He gave it up as a junior in order to get a head start on a career.
Cindy started early as a cheerleader for her brothers football team. Later she became junior high and Freshman cheerleader. When we moved and she changed schools she joined the flag corp. All of the kids' activities were exciting to watch and gave us so much pleasure. I couldn't have been prouder. My heart would sink as I watched Kevin attempt to steal home game after game. He always made it. I remember tearing up with pride as I watched Cindy perform with her high school band. What wonderful memories I have.
Brady came into the picture when Cindy and Kevin were twelve and thirteen. He was a joy and so easy to care for because I had so much help from the other two. When he was eight months old it was just the three of us. Their dad had moved on.
A couple of years had passed when a guitar playing Marine entered our lives. He fit right into our little family from the beginning. It was as though he belonged there. Do you remember the Marlboro man? Well, Gene looked just like him, boots and all. He ended up being the only dad Brady ever knew.
Brady was two and a half when I married Gene. Brady was smart, athletic with loads of potential. You don't suppose he might someday show an interest in playing basketball. My prayers were answered. He began with Bitty ball and loved it. I remember him dribbling down the floor so fast that he and the ball would go flying out of bounds. It was so much fun to watch. Before long he was playing in grade school. There was even a set play where he would throw the ball in bounds, it would make its way around the perimeter, back into his hands for the shot which he nearly always made. I think my prayers were answered. I had me a ball player.
During the summer months he was always in basketball camps. Steve Alford was his hero and his camp was his favorite. That is until he attended Fellowship of Christian Athletes Camp and was never the same after that. Things went well for Brady. He'd played Freshman ball, made reserve and then varsity. I was in seventh heaven. His first year on varsity, his team won the Sectional Tourney and went to Regionals. This was a fantastic accomplishment and one not often experienced.
He went on to have a couple of good years playing high school basketball. He had a great three-point shot which enabled him to help his team to many victories. He broke the gym record with 39 points one night when we were so busy trying to win the game the crowd didn't realize what was happening. He was awarded the MVP award at the end of the season.
Oh, I forgot to tell you how much help I was to his success. I was always asking him about practice, making all kinds of suggestions, thinking up new ways to treat his injuries and anything else I could do to help him be the best player he could be. As you can imagine, I was really into this and I'm sure I was a real pain. I also decided if spaghetti was the meal of choice before every game, because of the carb content, just think how much better a meal of chicken and noodles, mashed potatoes, corn and hot rolls would be. This is what I fed that poor boy before every game. God love him.
One day, knowing better, I jokingly said to him,"If I ever get to come back, I'm coming back as a basketball player."
Without missing a beat he said, "Well, I'm coming back as your mom."
Brady was recruited by many college coaches but he chose the local college in our own town. Even though he'd done extremely well in high school, I was nervous about it and anxious for him. I hoped he'd do well but he was going to be playing at a different level with each player a star from his own home town. Could Brady hold his own? I prayed about it. I had no sooner finished my prayer when the strangest thing happened.
Before I go on, I need to fill you in about a few things. First of all, the number on his basketball jersey all through high school was 35. I had a blue sweatshirt made with the school mascot and name on the front and on the back we wrote, BRADY'S above the 35 in white letters on the back. Under his number we printed MOM. He had tried to get the same number on his college jersey but it was unavailable. He had to settle for the number 32.
Right after I finished my prayer I was in the bathroom taking off that sweatshirt I had been wearing to clean. I glanced in the mirror as I dropped it down. I couldn't believe my eyes. Upside down and backwards that shirt read WOW and right under in large letters was the number 32. The number 35 upside down and backwards was a perfect 32 and MOM was WOW. What are the odds? Upside down and backwards 35 MOM read WOW 32. That was all the reassurance I needed. God is so clever. That was a sign if ever there was one. That boy was going to be fine. The next four years were great. Just going into town for the home games and taking off across Indiana on Saturday mornings for the away games. Brady had a great college career. His three point shot always kept us in the game and helped win many of them. We were two points down one game at the buzzer. He had been in the act of shooting a three point shot and was fouled. Game was over but he had three free throws to make. He stepped up to that free throw line, made every one of those shots and his team won the game by one point, and as they say, "The crowd went wild." I will never forget that one. I was a basket case, as you can imagine. He went on to get the "Clutch" award and was also MVP.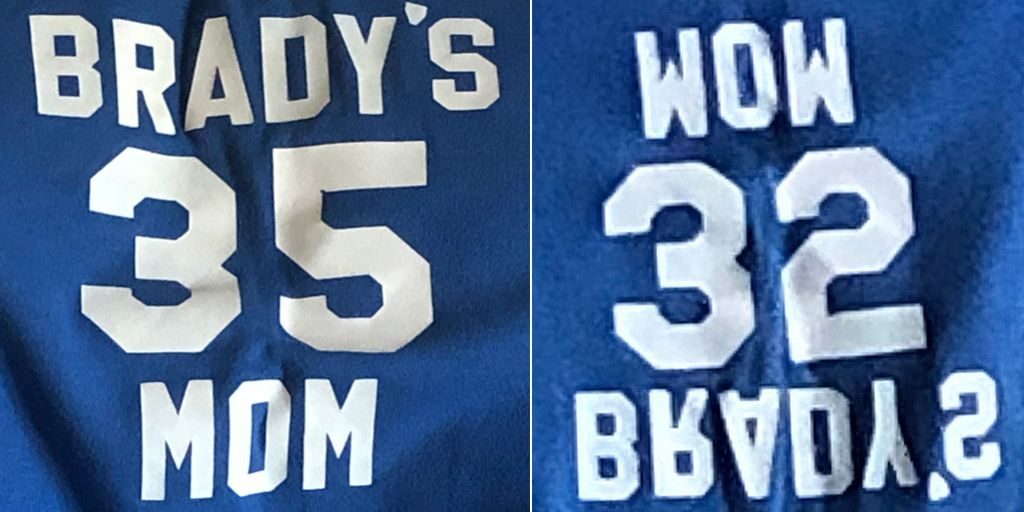 So you see, I had nothing to worry about. My sweet Lord was kind enough, early on, to let me know everything was going to be all right. He answered my prayer when he gave me a basketball player. Then He gave peace about my concerns. He is so awesome!
A Prophetic Reflection 2009