My mother lost her mother when she was only fifteen years old. I cannot imagine living my life without my mother's nurturing love. At that time, she had four younger sisters, the youngest was only two years old. I'm certain that my grandfather, who the family called, Pop, was absolutely devastated. My understanding is, that he worked very hard to keep his family together.
When most of her sisters were in their teens, my mother met a dashing theater manager and they were married. This was back in the "big band" days, when life was exciting and glamorous. It was after my brother and I were born, that Pop, no doubt influenced by the girls, decided to load up those lovely ladies and move to Hollywood, California. Can you imagine how exciting that would have been, to move to Hollywood back then?
All four of my beautiful aunts married young men, had families and lived their lives on the West Coast, far from my mother, dad, and brother, Bill and me. It makes me very sad to think my mother spent all of those years separated from her family. This meant that I had many cousins I barely knew. In 2003, the cousins decided that we all needed to get together. We met at Lake Tahoe and had the time of our lives. We rented a huge home, cooked for one another, played music, danced, played games, told stories, and really enjoyed getting acquainted.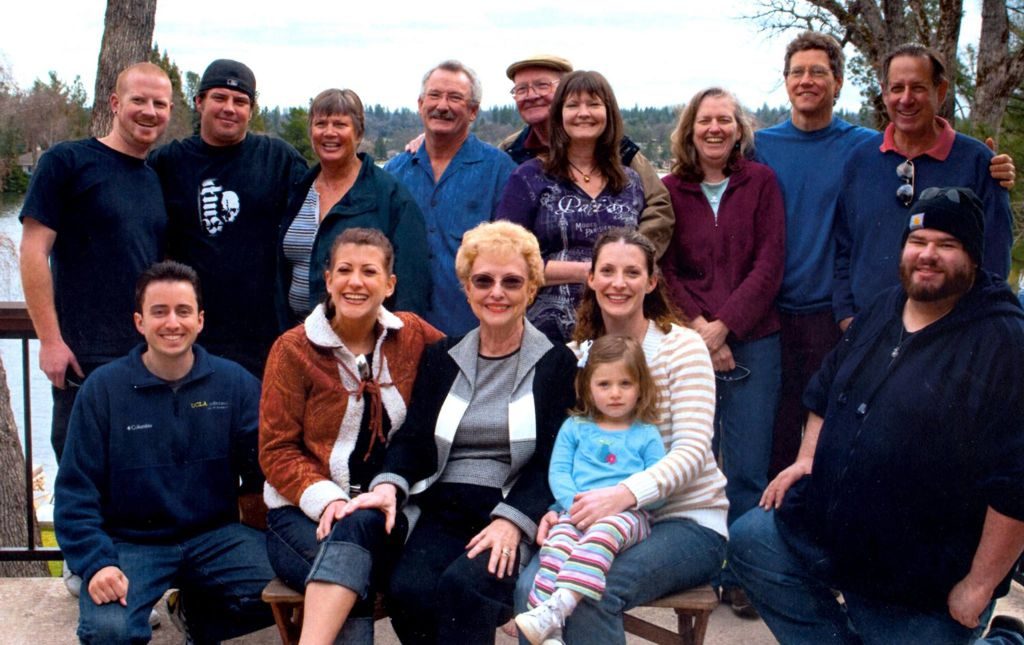 Because we had such a great time, and realized how much we had missed, we now take advantage of every opportunity to get together. There was so much love and positive reinforcement experienced by everyone who made the trip. In a way, it was like discovering a large group of brothers and sisters, just waiting to enter my life. What fun it was!
About four years ago, my mother and I flew to Seattle, Washington, to meet Jon and Waneen, two of my closest cousins. We planned to drive down the Pacific Coast Highway to Medford, Oregon. There we would experience another wonderful cousins' reunion. It was a great trip with beautiful scenery, so we took some fantastic pictures.
Once again, we rented a large home. This one was down the hill from a beautiful lake. It was a single story, rustic ranch, with lots of room to have fun. It was nestled at the bottom of a rocky hill, out in the country, with not many other homes in sight. From its location, you could see for miles.
Because I hadn't ventured out yet, I thought it was time for me to look the place over. One morning I decided to take a walk. The path leading up the hill was well worn, rough and rocky. Large boulders were placed here and there, among the bushy thickets and groups of small trees. It was such a scenic route, I was sorry I hadn't brought my camera with me. This was before we had become attached to our cell planes.
When I reached the top of the hill, I experienced a very strange phenomenon. I was blinded by an unbelievable bright light! It startled me and was so blinding that, at first, I couldn't make out what I was seeing. I was looking at a small tree, or large bush, that looked as though it was a blaze. It was beautiful! Because there were very few leaves on it, the shape of each branch was silhouetted, revealing every curve. The blinding sun was reflecting off of the lake so brightly, perfectly surrounding the little tree. I was overwhelmed by the experience! It was breathtaking! My first thought was that nobody would believe this. I had to figure out a way to share this experience. My camera, that's it! I must race down the hill and get my camera. I took off running as fast as my legs would carry me. I literally flew down the hill, ran into the house, got my camera and was back up the hill almost before I'd left that spot.
My face dropped as I reached the "burning bush," only to find that it was no longer burning. I don't think I've ever been more disappointed than I was that day. In the brief time it took me to run down the hill and back up again, the reflection of the sun had not only left the bush, it had left the water completely. I couldn't believe it. How could it move that fast? I was so anxious to share, that I missed the pleasure of basking in that beautiful moment.
I did some reflecting of my own that day. We know how important it is for us to share the good things in life with others, and how much more they mean to us if we do. There was no way I could have reached my camera in time to get a picture of that phenomenon.
Sometimes, the blessings we are given are just for us. Maybe we are to relax, accept, and just enjoy the experience. I did the same thing, sometime later, trying to capture a sunset. By the time I got my camera the colors had faded. I've learned a valuable lesson. Just stand still and enjoy the moment. It could be that a spiritual experience is between you and God and not meant to shared.
The Burning Bush 2008